The Ultimate DOOM - Play Online
DOS - 1995
For small DOS games like The Ultimate DOOM, you can play online immediately with your browser (Chrome, Firefox, Safari, Internet Explorer...). This feature is still experimental, the game may not work properly. Warning: game save should work, but you should try it early! Also, be careful to select the right game executable in the list below.
Emulator configuration
You have to choose the right game executable, then press PLAY.
To exit fullscreen mode, press escape. Playing experience can be poor due to your browser or your computer. Download The Ultimate DOOM and launch it with DOSBox to have the best playing experience!
If the game is too fast or too slow, try hitting CTRL-F11 (slower) and CTRL-F12 (faster).
Comments
SilverBeard 2018-04-28
You Turd-Burglers...this game runs fine. The only downside of playing in the browser is having to use the default keys.
If you don't like that, DL it and run it in DosBox. Video my Ass LOLTHISISASCAM, you plumb head.
If you can't run this dinosaur-of-a-game, throw your computer/laptop away and buy a new one, ya cheap bastards. Only plebs and noObs would DL this anyway. Go and BUY it - Support the gaming Industry. I personally have at least 4 purchased copies of this and the other Legacy Doom (and Hexen I + II, Heretic I + II) Titles. Crikey, I LOVE FPS's, I must have a TONNE on the damn things lurking about my office...they're like tupperware - Turn out the lights and they multiply!
zubizarr 2018-03-10
Excelent work You done here
lolthisisascam 2018-01-02
this isnt a game its just a video you liers
Nathaniel 2017-01-05
I would love to play for free, if I can!
Dex 2016-09-17
Stuck on the some select files thing
A guy 2016-07-12
Blazer, sounds like you might want an upgrade. Just maybe.
william wu 2016-07-06
Cool.game
zen moy 2016-06-22
what happend to this game
doom 2016-06-04
it dosent work
  2016-05-30
You must take it there codes!
Frusterated 2016-05-20
Yea, mine won lode either, and I'm using an ARM chromebook at school. I guess this only works on x86 processors.
Eddie 2016-05-15
Yes Blazer, Apple IS frustrating. That`s why I don`t have anything from Apple.
Blazer33 2016-03-22
I can't get the ANY DOOM TO download on my ibook g4 mac os x 10.5.8!!! It's so fucking frustrating
Heyyyyyyy 2015-11-14
yeah
Wha-whaaaaaaaat? 2015-06-29
What the... why isn't it opening?!?!?!?!?!?!?!?!?!?!?!?!
Write a comment
Share your tips to run properly The Ultimate DOOM in your browser: best browser to use, specific DOSBox config... You can drop a comment for anything too!
Similar games
Fellow retro gamers also downloaded these games: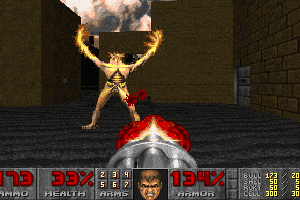 DOS, Mac1994
DOS, SEGA 32X, SNES1993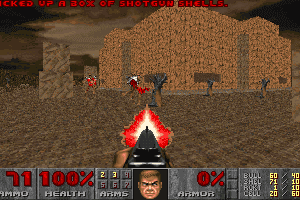 DOS1995