Mixed-Up Mother Goose
DOS - 1991
Year

Platform

DOS

Released in

United States

Genre

Theme

Publisher

Developer

Perspective

3rd-Person
Description of Mixed-Up Mother Goose
In 1991, Sierra On-Line, Inc. publishes Mixed-Up Mother Goose, a pre-school / toddler game for the DOS system. Offering adventure, educational genre, it is now an abandonware.
Mixed-Up Mother Goose is a great adventure game for toddlers that marks a departure for designer Roberta Williams, of King's Quest fame. First released in 1987, the game's strong premise, great gameplay, and charming graphics propelled it to the top of children's title charts. Anyone who's familiar with nursery rhymes will be able to guess the plot from the game's title. In a dream, you are carried on gooseback to the fantasy land where nursery rhymes are true stories. Mother Goose has inadvertently mixed up all her rhymes, and it's up to you to fix it. Gameplay is best described as the larger version of a typical card-matching game. In the case of Mother Goose, your goal is to match items and people (or people and people, or people and animals). When you meet a nursery rhyme character, he or she will tell you what they want or what they're missing. You have to scout Mother Goose's realm and find and remember the location of each item as you can only carry one object, or escort one person/animal at a time. You can only "drop" an object or entity when you come into contact with another, or when you make a correct match. True to the game's focus on preschoolers, there is no text parser - the game is played completely with either the keypad or joystick. Kids will have a lot of fun seeing their familiar nursery rhymes come to life, including Jack and Jill, Little Bo Peep, Humpty Dumpty, Little Miss Muffet, Old King Cole, Hey Diddle Diddle and many more, totaling 18 in all. Mother Goose is probably meant to be played by both parent and child together, as there is some text in the game that toddlers can't read, and older children who can read probably would have outgrown nursery rhymes. Overall, Mother Goose is definitely one of the best titles ever designed for toddlers, and there's some educational value even for adults, I couldn't recognize some of the nursery rhymes in the game ;) Two thumbs up! Also be sure to check out the 1992 enhanced CD-ROM version of the game, which features excellent VGA graphics and music. The latest version of the game is 1996's Mixed-Up Mother Goose Deluxe, and upgrades the game even further with SVGA graphics and a bonus audio CD.

Review By HOTUD
How to play Mixed-Up Mother Goose
Write a comment
If you have any trouble to run Mixed-Up Mother Goose, click here before posting a comment.
Download Mixed-Up Mother Goose
Just one click to download at full speed!
If you have any trouble to download Mixed-Up Mother Goose, let's try another browser.
Similar games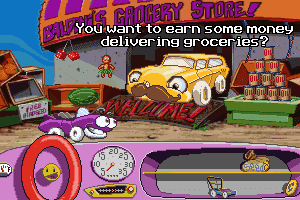 DOS - 1992
DOS - 1991
DOS - 1993