Rambo: First Blood Part II
Rambo: First Blood Part II
DOS - 1985
Alt name

Rambo: First Blood Part 2

Year

Platform

DOS

Released in

United States

Genre

Theme

Publisher

Developer
Description of Rambo: First Blood Part II
Rambo: First Blood Part II (also known as Rambo: First Blood Part 2) is a game published in 1985 by Mindscape, Inc., the theme is interactive fiction, licensed title. It features a adventure genre and uses a perspective.
Yup, it's interactive fiction based on Rambo 2, one of the last movies you would want to make a game out of, much less a text adventure. Anyway, here we are so we might as well get on with it.... ... Well, there's nothing much to say about this game. If you've seen the movie, you'll know what to expect. And don't expect difficult puzzles-- Rambo isn't known as the smartest man on earth (or even smartest monkey, for that matter). Your job is to use your trusty machine gun to liberate POW's in Vietnam. That's really about it, although some puzzles do require more thought than Rambo is capable of (that's why he needs your help, I guess). The game does try to be atmospheric, but the effect is rather awkward -- after all, typing "SHOOT MAN" doesn't give you nearly as much Rambo-like adrenaline rush as actually blasting the enemies in action games. Probably a good example of the limits of interactive fiction. A good effort that's worth playing if you're curious, especially since the game is quite short. If you want a real Rambo experience, though, play shoot-em-ups instead.

Review By HOTUD
How to play Rambo: First Blood Part II
Comments and reviews
Write a comment
If you have any trouble to run Rambo: First Blood Part II, click here before posting a comment.
Download Rambo: First Blood Part II
Just one click to download at full speed!
If you have any trouble to download Rambo: First Blood Part II, let's try another browser.
Similar games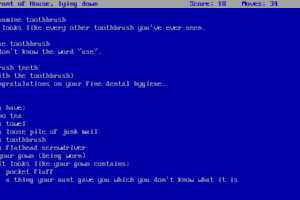 DOS - 1984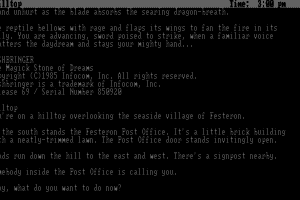 DOS - 1985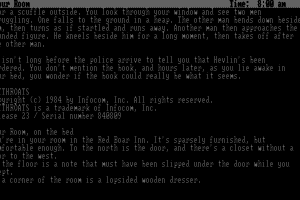 DOS - 1984