Conflict - Play Online
DOS - 1990
For small DOS games like Conflict, you can play online immediately with your browser (Chrome, Firefox, Safari, Internet Explorer...). This feature is still experimental, the game may not work properly. Warning: game save should work, but you should try it early! Also, be careful to select the right game executable in the list below.
Emulator configuration
You have to choose the right game executable, then press PLAY.
To exit fullscreen mode, press escape. Playing experience can be poor due to your browser or your computer. Download Conflict and launch it with DOSBox to have the best playing experience!
If the game is too fast or too slow, try hitting CTRL-F11 (slower) and CTRL-F12 (faster).
Comments
NerdMan 2019-05-10
Wish their where cheats
SG-ETINU 2019-03-10
game hangs when Syria attacks...
but not when Egypt attacks...
also problem: HOW DOES SYRIA GET NUKES I GOT REKKT BY 'EM they so strong it hangs the game.
Either when Syria is close to being defeated or nuke-tastic problematic decisions.
Spresten44 2019-01-22
How do I get the game going? I know how to use the mouse keys, but how am I meant to click "New Game" or "Conflict"? Please help!
Alexi 2018-10-12
@ayanir-its an arrow keys only game, you cannot use your mouse.
Aynir 2018-07-29
Can't get it started, it's like they expect me to play a photo
leszke 2018-07-21
is that possible? 838 :OOO
BG 2018-06-18
838 high score, anyone else?
Anonymous entity. 2018-03-28
Very Fun and Interesting game. Played and Won a few times, though it just crashed for me on Egypt. Really makes you think, especially when dealing with Syrian might and Egyptian aggression.

Also, to Nukes: The best way to keep the US on your side is just to buy, buy, buy. I have not been invaded by them yet, though I have lost weaponry. If invasions are possible, it will be just another interesting turn in an amazing game.
hi 2018-03-23
the nukes take a lot longer than 3 months to get
Nukes 2017-10-30
What's the best way to maintain relations with The US while taking The middle east?
LUVTHISGAMEOLDSCHOOL` 2017-03-11
I've played this guy a thousand times over the past two decades or so, and on many different pc's and os.

I've sometimes seen this issue with it crashing, sometimes not. I could never find a rhyme or reason to it, to why it did or didn't. My solution was always go find a different download and hope for the best.

Currently I can't play it at all anymore, as it is incompatible with W8.1 (unless someone has a workaround?)
Innersense 2016-05-03
Love this game, had it on my ST......one bone of contention though is that as the other comments mention the game will hang if your reign is too long and you are in a drawn out conflict with either Egypt or Syria...
We'resosorrymisterprimeminister 2016-02-13
Bought this game when it first came out because it was very cheap, even at the time. Loved it then, love it now. Still a game that makes you earn a win... just defeated Egypt and on the same turn Syria invades and takes me out on the same turn change!
BlastFromPast 2015-12-19
"game hangs whenever I am close to defeating Egypt...?!"

Same thing........?!
annoymous 2015-11-29
doesn't do it to me
crossthread 2015-09-16
game hangs whenever I am close to defeating Egypt...?!
Write a comment
Share your tips to run properly Conflict in your browser: best browser to use, specific DOSBox config... You can drop a comment for anything too!
Similar games
Fellow retro gamers also downloaded these games:
DOS, Amiga1991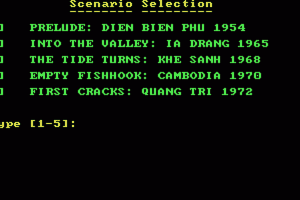 DOS, C64, Atari 8-bit, Apple II1986
DOS, Amiga1992