Play
SimAnt - Play Online
DOS - 1991
For small DOS games like SimAnt, you can play online immediately with your browser (Chrome, Firefox, Safari, Internet Explorer...). This feature is still experimental, the game may not work properly. Warning: game save should work, but you should try it early! Also, be careful to select the right game executable in the list below.
Emulator configuration
You can choose which game version you want to use, then you have to choose the right game executable and press PLAY.
To exit fullscreen mode, press escape. Playing experience can be poor due to your browser or your computer. Download SimAnt and launch it with DOSBox to have the best playing experience!
If the game is too fast or too slow, try hitting CTRL-F11 (slower) and CTRL-F12 (faster).
Comments
johnny b. jacobs 2023-01-02
Exsosus 2022-03-25
Runs perfectly in-browser on all operating systems. Right now I'm playing on Linux and on Windows 11.

Enjoy! (Tip: Don't forget to turn off music if it becomes too repetitive.)
aaaaaaddddddiiiiii 2022-03-03
this is so fun, hope there are more games like this
Yayy 2021-10-23
Now I have a SimAnt addiction
DEM678 2021-08-15
I LOVE THIS GAME
Ethan Lu 2021-06-04
haha so fun
Ethan Lu 2021-03-15
You need to click file to be able to save
Ethan Lu 2021-02-19
can you stop those wormie things?
ant dude 2021-02-15
I beat the game!!!!!!!!!!!!!!!!! yay!
I am an ant gamer 2021-01-31
this game is quite AMAZING and it was kinda shocking to see a worm too near my anthill especially in the tutorial
Ethan Lu 2021-01-26
I can kill some ant
DémonX 2021-01-18
hey is strange i can t be breeder and soldier just worker.You can fix tat?
josh 2020-09-27
hey i need help saving my game how do i do it
stegosauro 2020-06-19
why the mouse didn't work??
Bananacatman 2020-03-04
YOLO
DK 360 2018-05-20
You cant really download it on chrome or safari, because the sim ant computer language is too out dated for the computer to understand. So it wont work on any newer versions of windows. Maybe if you have an old computer that still has a DOS platform it might work, IDK
Gregory 2018-04-27
WOW! Good game Im Complete The Full Game. Very Good Game :D
BOPE 2017-10-17
IDK why some of you have problems I downloaded it just fine after playing a couple of hours in chrome
cygwincgibin 2017-08-13
In the browser version, I cannot see the menu when I right click and ant.
shadowlord35 2017-04-25
i have no idea
help 2016-11-07
not working on Safari or chrome....
Jason 2016-10-27
Wow! this brings back the memories, spent hours playing this as a kid
Ghost 2016-09-14
umm... what am i supposed to do after starting it up? all i see is a black screen with some text...
Aaron 2016-06-29
Chrome does not work with these games it seems. Try FireFox if you see all the text but the game doesn't start. The Internet Archive is having the same problem with their games. Chrome changed something in their browser that prevents the games from working.
Jester 2016-06-01
On browser mode I get a black screen with lots of text, no real game. When I try to download it, and run the SIMANT.EXE BANG, 'Cannot run'. :( Real shame, this website looked promising.
elimo 2016-03-24
my simant
Bobby Bottleservice 2016-03-17
Downloaded the game. Most things seem to work fine, but I notice little glitches, for example I can't get other ants to follow me after hitting recruit.
Chim 2016-02-25
It works. You just have to select /SIMANT.EXE as the executable
rika195 2016-01-14
I remember playing this game as a kid. It taught me a lot about how ants work in teams, and how scary things like spiders or rival ant hills could be defeated if you had a large enough ant army. It was so much fun! I'm so glad to find it again.
Hidden Butcher 2015-08-02
Oldie, you need to select the simants folder on the second selector, the default one is the info folder
oldiefan 2015-07-30
this game doesn't work. I tried twice. too bad this game doesn't work, looked like it would be fun to play.
Write a comment
Share your tips to run properly SimAnt in your browser: best browser to use, specific DOSBox config... You can drop a comment for anything too!
Similar games
Fellow retro gamers also downloaded these games: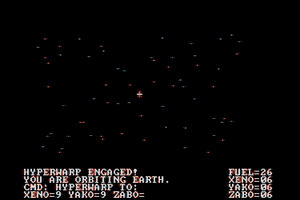 Ultima II: The Revenge of the Enchantress...
DOS, Mac, C64, Atari 8-bit, Atari ST, Apple II, PC-881983
Where in the World is Carmen Sandiego? (Enhanced)
DOS, Genesis, Amiga, Atari ST, Apple IIgs, TurboGrafx CD1990