The Oregon Trail - Play Online
DOS - 1990
For small DOS games like The Oregon Trail, you can play online immediately with your browser (Chrome, Firefox, Safari, Internet Explorer...). This feature is still experimental, the game may not work properly. Warning: game save should work, but you should try it early! Also, be careful to select the right game executable in the list below.
Emulator configuration
You have to choose the right game executable, then press PLAY.
To exit fullscreen mode, press escape. Playing experience can be poor due to your browser or your computer. Download The Oregon Trail and launch it with DOSBox to have the best playing experience!
If the game is too fast or too slow, try hitting CTRL-F11 (slower) and CTRL-F12 (faster).
Comments
baldiman 2019-05-16
soooooooooooooooooooooooooooooooooooooooooooooooooo cool
i can play
Niglet 2019-05-05
TOo MuCh Dysentery 3/5 stars
perfectlyGoodInk 2019-04-18
Whoa, that was a lot deeper than I expected.
anye 2019-03-27
This is my first time to play this game, i like it!
cncnc 2019-03-20
this game is the bomb
Cool Guy 2019-03-04
My second time got me on the top ten board XD.... My first time I almost made it... but, got stuck
Weston Mulherin 2019-02-27
Made it in the top ten first try and it was my first time playing too LOL
The bug 2019-01-24
im not on anyone's shirt thank you.
Juan Pablo 2018-12-25
I almost died of dysentery after eating my wife's cooking.
al einstein 2018-10-08
anyone dtf?
RandomStudent@Skewl 2018-05-25
braxton kept turning off my Computer so i couldnt finish.. -.-
JOSSY 2018-04-12
I WON and i did it in like 20 minutes!!! OMG! IM SO HAPPY I'VE NEVER WON THIS BEFORE XD
Haha 2018-04-11
no ur dum
venus. 2018-04-10
it was fun. hard but okay.
Van Awma 2018-04-10
This game was very great because I learned how they could survive and I learned new diseases I didnt know about... Thx you!
SANG LIAN 2018-04-10
THIS GAME WAS GREAT OVERALL REALLy HELPED USE LEARNED
hunter 2018-04-06
thang pi is dum like sponge bob
zeutron 2018-04-06
david lets play prodigy
hunter 2018-04-06
what sup thang
zeutron 2018-04-06
hey guys what doing and what is that a bug on your shirt
cortez 2018-03-12
why do people keep dying on this game
lil bip vamp 2018-03-12
david ellery
hunter 2018-03-12
this game sucks
thang 2018-03-12
hey guys
lil bip vamp 2018-03-12
im a vampire and my name is lil bip
DODO GOD 2018-03-07
great game
HA GO EM! 2018-03-05
This game is amazing i figured out how to cross the river
Scout 2018-01-13
Mine works just fine, maybe it's the computer idk
Im cool 2017-05-24
I can't get it to work
Lol 2017-04-28
You need stupid dos game pad to play.
Dat Boi 2016-12-20
Cant get the keys to work
Savage 2016-12-01
Can't even play it because it doesn't have keys when you are playing on a iPad
Ki 2016-11-09
The soundtrack is just, like, I am on the brink of tears for every song!
a 2016-09-25
i tried both options and its still not working for me
godprobe 2015-08-15
@Reaper -- stop the game, and switch the "Game Executable" from "INSTALL.EXE" to "OREGON.EXE" in the options above the game window. :)
Reaper 2015-06-01
Not having any luck getting it started from press any key.
Write a comment
Share your tips to run properly The Oregon Trail in your browser: best browser to use, specific DOSBox config... You can drop a comment for anything too!
Similar games
Fellow retro gamers also downloaded these games: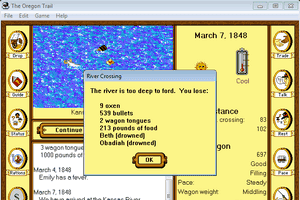 Win1995
DOS1992
Win, Mac1995