The Incredible Machine - Play Online
DOS - 1993
Alt name

Pararancho

Year

Platform

DOS

Released in

United States

Genre

Theme

Publisher

Developer

Perspectives

Side view, Fixed / Flip-screen

Dosbox support
For small DOS games like The Incredible Machine, you can play online immediately with your browser (Chrome, Firefox, Safari, Internet Explorer...). This feature is still experimental, the game may not work properly. Warning: you can't save a game! Also, be careful to select the right game executable in the list below.
Emulator configuration
You can choose which game version you want to use, then you have to choose the right game executable and press PLAY.
To exit fullscreen mode, press escape. Playing experience can be poor due to your browser or your computer. Download The Incredible Machine and launch it with DOSBox to have the best playing experience!
Comments
Meep 2017-05-22
it doesn't play for me
seren 2017-05-13
this game is the best ever
thomas kurok 2017-05-03
i would love to play this incredible machine games cause i havent played this games in a while!
Mike! M 2017-04-25
I used to love this game in the 90s
nickola 2017-04-21
Im still on lading screen
Tommy 2017-02-04
Played this game 1st time round. Fantastic game really got the old grey matter thinking.
Tommy A
hhh 2017-02-02
Chromebook hates it
AlCapone 2016-12-11
I wanna just try ut ...
TIMFOREVER 2016-12-07
i just did Level 23 NIGHT-Z25761K5N2 but back in the 90's I managed them all :-) ... really a cool game!
Dude 2016-11-25
Lvl 11 done I got bear-zzeecjeuk anyone got some higher level passwords?
Elo 2016-02-01
Finally ti is here again.
Write a comment
Share your tips to run properly The Incredible Machine in your browser: best browser to use, specific DOSBox config... You can drop a comment for anything too!
Similar games
Fellow retro gamers also downloaded these games: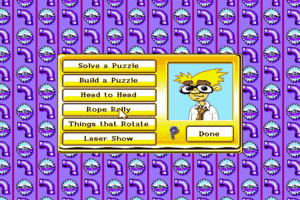 DOS1994
DOS, Mac1993