Play
BattleTech: The Crescent Hawk's Inception - Play Online
DOS - 1988
For small DOS games like BattleTech: The Crescent Hawk's Inception, you can play online immediately with your browser (Chrome, Firefox, Safari, Internet Explorer...). This feature is still experimental, the game may not work properly. Warning: game save should work, but you should try it early! Also, be careful to select the right game executable in the list below.
Emulator configuration
You have to choose the right game executable, then press PLAY.
To exit fullscreen mode, press escape. Playing experience can be poor due to your browser or your computer. Download BattleTech: The Crescent Hawk's Inception and launch it with DOSBox to have the best playing experience!
If the game is too fast or too slow, try hitting CTRL-F11 (slower) and CTRL-F12 (faster).
Comments
sappenheimer 2018-12-24
just wanted to post a little DOS info, for this game after it runs its check you can type btech this should launch the game
Moose 2018-10-01
Played this as a kid and was hoping for a little nostalgia but it's not working. After loading $verify it says no good.
Daelyn75 2018-04-27
I played this game when I was 15-16 on my Amiga in 1991-1992. I liked it so much that I finished it twice, which is something I wasn't know for doing back then. I guess I just liked it that much.

Funny seeing that it came out in 1988, and the sequel Battletech The Crescent Hawk's Revenge came out in 1989. These were the years that the Amiga 500 and 1000 dominated over every other computer. The closest would have been the Atari ST which is what my best friend had back then. Yet the sequel never came out for the Amiga, which at the time when I found out about that in 1992 and it prevented me from playing it really bothered me. I guess they had a reason for it, but PCs didn't catch up to the Amiga until around 1991 or 1992.

At least here on My Abandonware, I get another chance to not only play this game, but to play the second game as well.
EvilGmer 2017-12-23
How do I play this game? How do I start it?
BigServ17 2016-11-19
I loved this game for years and just thought about it the other day. Sorry steam and xbox, I have some catching up to do with an old friend.
Write a comment
Share your tips to run properly BattleTech: The Crescent Hawk's Inception in your browser: best browser to use, specific DOSBox config... You can drop a comment for anything too!
Similar games
Fellow retro gamers also downloaded these games:
DOS1989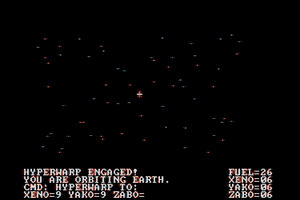 DOS, Mac, C64, Atari 8-bit, Atari ST, Apple II, PC-881983