Wizardry: Proving Grounds of the Mad Overlord - Play Online
DOS - 1984
Alt names
ウィザードリィ 狂王の試練場, Wizardry: Proving Grounds of the Mad Overlord!, Sorcellerie: Le Donjon du Suzerain Heretique, Paladin, MacWizardry, Dungeons of Despair
Year
1984
Platform
DOS
Released in
United States
Genre
Role-Playing (RPG)
Theme
Dungeon Crawler, Fantasy, Turn-based
Publisher
Sir-tech Software, Inc.
Developer
Andrew Greenberg, Inc., Robert Woodhead, Inc.
Perspective
1st-Person
Dosbox support

Supported

on 0.63
For small DOS games like Wizardry: Proving Grounds of the Mad Overlord, you can play online immediately with your browser (Chrome, Firefox, Safari, Internet Explorer...). This feature is still experimental, the game may not work properly. Warning: game save should work, but you should try it early! Also, be careful to select the right game executable in the list below.
Emulator configuration
You have to choose the right game executable, then press PLAY.
To exit fullscreen mode, press escape. Playing experience can be poor due to your browser or your computer. Download Wizardry: Proving Grounds of the Mad Overlord and launch it with DOSBox to have the best playing experience!
If the game is too fast or too slow, try hitting CTRL-F11 (slower) and CTRL-F12 (faster).
Comments
slick 2018-10-01
I cant seem to save my progress.
Balin 2018-08-06
I just ran into the same issue with character creation using DOSBox on Windows 10. It turns out that if you have caps lock on, the ESC key won't work. Close out of DOSBox, turn caps lock off, and then relaunch the game. It worked for me after than.
Oops 2018-06-05
Character creation is impossible since pressing Esc does nothing but return a blip sound. Pressing 'C' as suggested by another comment results in the same thing. This occurs whether you're playing it in your browser or running it on your computer through DosBox. Unfortunate.
Spartan 2017-11-04
Rather than hit esc in character creation, hit "c" and you won't lose your character.
cp 2017-03-01
How do you create a scenario disk? I'm following the command to create one and say I have two disk drives (I have none) and it just says it failed to format the disk. This is all form within my browser (firefox).
Randy 2016-11-24
Using FF in Win10, could not get escape key to allow me to finish character creation *sob*
Write a comment
Share your tips to run properly Wizardry: Proving Grounds of the Mad Overlord in your browser: best browser to use, specific DOSBox config... You can drop a comment for anything too!
Similar games
Fellow retro gamers also downloaded these games: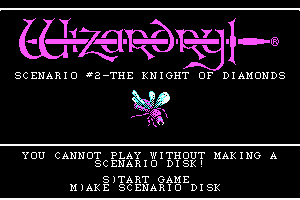 DOS, C64, Apple II, PC-881987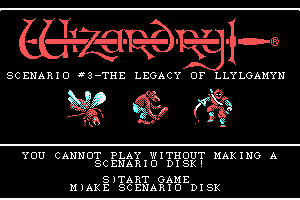 DOS, C64, Apple II, PC-881986