Wolfenstein 3D - Play Online
DOS - 1992
For small DOS games like Wolfenstein 3D, you can play online immediately with your browser (Chrome, Firefox, Safari, Internet Explorer...). This feature is still experimental, the game may not work properly. Warning: game save should work, but you should try it early! Also, be careful to select the right game executable in the list below.
Emulator configuration
You can choose which game version you want to use, then you have to choose the right game executable and press PLAY.
To exit fullscreen mode, press escape. Playing experience can be poor due to your browser or your computer. Download Wolfenstein 3D and launch it with DOSBox to have the best playing experience!
If the game is too fast or too slow, try hitting CTRL-F11 (slower) and CTRL-F12 (faster).
Comments
rokl 2018-05-07
anyone knew how to god mode it is tab g but not work
Aryan 2018-04-04
Not good game
Aryan 2018-04-04
Not good game
Some Guy 2017-11-16
Pressing M I L at the same time still works.
Dumolko 2017-11-04
Response to Kbswaff

Firing on a keyboard requires you to press either of the ctrl buttons
kbswaff 2017-10-23
http://www.abandonia.com/files/extras/23636_game_extra_1.pdf

This link holds a digital photocopy of the original 1992 game manual. Very useful for understanding the game better.
Kbswaff 2017-10-23
My Experience with Wolfenstein 3D streaming from my browser.

Game Controls
Defaults to Mouse, but the keyboard also works.
Keyboard controls: Spacebar to open doors
Alt + one of the arrow keys (up, down, left, right) to Strafe
Also using the mouse + Alt = Strafe

I haven't discovered the keyboard control for firing yet.
nikhil 2017-09-26
I Want This Game
the hell am i suppose to do 2016-12-11
is there a way to change controls from mouse to something else it's almost unplayable with the mouse
Medusaray 2016-06-14
abnormal program termination with original apogee
dave 2016-04-25
says ultrawolf not installed
ViewyTooth5 2016-02-26
HOW DO I START PLS HELP I SET IT TO ORIDINAL A. MAYBE ITS CUZ I HAV A WINDOWS 10??!!
Played Doom First 2016-02-10
Jesus Christ, this control scheme is fucking terrible with a mouse. I want to strafe and turn my mouse, but it just doesn't work at all.
Jack 2015-11-17
To start the game change the version to original apogee.
oh no 2015-10-13
what shoud i do in dosbox
Confused 2015-08-30
How does it work in WEB-FLASH? I stuck at DOSbox...
Some Dude 2015-05-28
I'm really confused on how to use DOSBox... won't let me start game... please help.
Nick 2015-05-21
Good Game
Write a comment
Share your tips to run properly Wolfenstein 3D in your browser: best browser to use, specific DOSBox config... You can drop a comment for anything too!
Similar games
Fellow retro gamers also downloaded these games: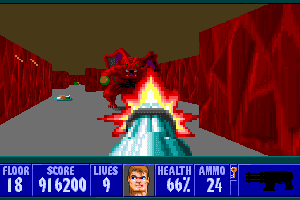 DOS1992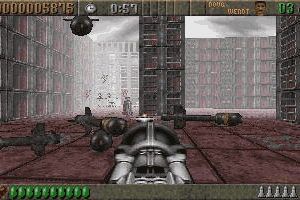 DOS1994
DOS1996