Play
Mario Teaches Typing - Play Online
DOS - 1992
For small DOS games like Mario Teaches Typing, you can play online immediately with your browser (Chrome, Firefox, Safari, Internet Explorer...). This feature is still experimental, the game may not work properly. Warning: game save should work, but you should try it early! Also, be careful to select the right game executable in the list below.
Emulator configuration
You can choose which game version you want to use, then you have to choose the right game executable and press PLAY.
To exit fullscreen mode, press escape. Playing experience can be poor due to your browser or your computer. Download Mario Teaches Typing and launch it with DOSBox to have the best playing experience!
If the game is too fast or too slow, try hitting CTRL-F11 (slower) and CTRL-F12 (faster).
Comments
hi there i am horrible at this game 2021-01-06
my name says everithing
Luigi 2021-01-02
you know the three luigi comments are written by a same person...
Luigi 2020-12-31
ok its not THAT good from super mario bros a 2 but better than a supa maro bras mama mia
Luigi 2020-12-28
mama mia i would like buy this game and keep it forever because it is better than super mario bros a two mama mia its a luigi
wow 2020-12-10
this game rules
just love mario 2020-12-10
i do this instead of typing plus when you have to letters like a and k when you press both of them you just race across the screen
i love mario 2020-12-09
THIS IS THE BEST GAME EVER
tyeping kid 2020-10-23
this game is awsome & it is beter than any ting i have ever seen
ann 2020-10-06
i like this typing thx for teah me
poop 2020-10-01
i know this game since 1981 and it teach me how to type and now im to old to type
Rico T 2020-08-15
Now I see why my computer class teacher made us wear headphone while playing this game. This would have been torture to any adult.
TUYHANG 2020-08-12
I WILL GO AWAY FROM YOU AND FINDING SOMEONE BETTER THAN YOU
THIS IS MY TYPING SKILL
GreenMachine 2020-08-11
I love this game so much!
Phanith 2020-07-25
Would like to practice the first typing.
NICKMAME 2020-07-22
I know the game is old but please fix the sound. Sometimes it is fine but sometimes it is scratchy.
jg 2020-07-19
so glad to have found this ! played it as a kid and now mine can too
ferran 2020-06-22
best game i ever seen
LOOGI KID 2020-06-11
this music makes my ears bleed! and not only that, the music is ripped out of the SNES classic, "super mario world"
L 2020-05-22
ES MUY BUENO
Vman 2020-05-20
the music sounds really weird
liza 2020-05-04
can you pls change the sound
poop 2020-04-02
I know this game came out in 1992 but the music is kind of off
Meknei 2020-03-07
I love this game
ok 2020-01-25
it keeps freezing and giving me divide error
nerfytheclown 2020-01-23
The browser version works pretty sweetly. Great way to get a little practice, or teach a child to type. Fun.
neath 2019-08-12
studying typing Mario
posterkid 2019-07-15
the 2nd mario te i mean pratices typeing is where mARIO HEAD coooMmMmes frem guys
mayro 2019-05-26
the ; doesn't work
dc 2019-05-18
v Ha! Nice joke
my nickname 2019-01-22
This is the greatest game ever made. I struggled with depression issues half my life. I was diagnosed with terminal cancer a few years ago, and it's extremely painful sometimes, I am currently in debt, and my girlfriend broke up with me. I had no hope in life, and i scheduled my suicide for 1 week from now. But then i discovered this game. As soon as I hit start, the gates of heaven opened. My cancer disappeared, I got back with my girlfriend, and won 3 billion dollars. This game changed my life. Thank you nintendo, thank you microsoft, and thank you mario, for touching my heart.
Dalesad 2019-01-14
esse jogo além de ser um jogo, ensina sobre algo
dave 2018-11-16
this is my first try playing so
AgentFreakBunny 2018-10-11
the music is insufferable
boom boom flahs 2018-08-30
this is a typing game.
AlYKat 2018-06-14
I want to get fast by typing and practicing to typ 70 wmp.
nak toch 2018-05-14
it's so good for the first computer user
Nintendo123 2018-02-25
I love all nintendo stuf- except for sony stuff!
Nintendo 2018-02-25
We made this in 1992!
jonh 2018-01-19
i want to play and teach mysefl
nnsense 2017-12-19
Where $%$?!?$ is the character ";" in this game?!
Tj Anderson 2017-11-07
my first game is Mario Teaches Typing
z-greninja 2017-10-23
gooooooooooooooooddddddd!!!!!
z-greninja 2017-10-23
good!
Eng 2017-10-18
I want to play Mario typing
bobbie 2017-09-10
Teach me to type
InstructionsForGames 2016-09-20
Pikayoshi: Switch the game version to the Preinstalled and then switch the game executedable file from MARIO.exe to SETUP.exe then follow the SETUP instructions you can change the VIDEO but just press ENTER for now, then you can change the SOUND type and get that SWEET perfect sound! Don't thank me, thank yourself for asking!
Pikayoshi 2016-08-04
How do i get Perfect Sound? is there a DOSBox Config for that!?
It sounds like Chadtronic's Copy of Mario Teaches Typing!
the dark night 2016-07-26
it is a good games and I love it
TechWolf 2016-06-14
On Windows 10 I get a "stack overflow" error in Chrome, but it works fine in Edge. Thanks for the play!
Kabukibear 2016-06-07
If it's stuck at the installation screen, make sure you select the pre-installed version from the game version drop down box.
polin 2016-03-22
i want to play
raven 2016-02-18
because the letters needed to be caps
Nar 2016-02-11
Online version worked very well until at some point it wouldn't recognize the semicolon button anymore. :( Also sometimes letters wouldn't work unless I toggled caps lock (sometimes on, sometimes off). Still love this game!
raven 2016-02-08
you got mph at 23 that's amazing
Maria 2016-01-30
This game is the best, I wrote 10 minutes with typing speed of 23 MPH and I got 95% accuracy. It is a good game and the characters are THE BEST!! Another thing... This game is in of itself a good way to teach typing, they know your name, they know what level you are, they know how long you want your lesson to be... who can ask for more?!
raven 2016-01-12
works fine
raven 2016-01-11
pre installed
raven 2015-12-14
I pressed Enter but it didn't work for me at all
Nguyen Thi Huong Thao 2015-12-04
choi kieu gi vay ? ko hieu.
Elizabeth 2015-12-02
I pressed Enter but it didn't work
hanh 2015-12-01
tôi muốn chơi trò mario teachers typing 1
Doge 2015-11-22
If you are having problems with INSTALL, do the following: Go to "Emulator configuration" which is in the middle of this page (above the emulator screen) then change the "Game version" to pre-installed. Then, change the "game executable" to MARIO.EXE. You will be able to play normally now! Have fun!
morita 2015-11-03
Home of the Funny Mario Head
Johnska 2015-10-22
Yeah, I don't know about this running...
Lê Hương Giang 2015-08-31
i love mario teacher typing
englow 2015-08-23
semicolon bug... Could not get it to work.
mario time girl 2015-08-06
i press enter nothing happens thats weird
kivin 2015-07-09
educational
admin 2015-05-25
Added a pre installed version, works fine!
SCIPR06 2015-05-24
I do NOT know how to run a DOS system. It says I need to install something by pressing enter, but no matter what I tried noting happened!
pink kid 2015-05-04
hello my name is pink kid
Write a comment
Share your tips to run properly Mario Teaches Typing in your browser: best browser to use, specific DOSBox config... You can drop a comment for anything too!
Similar games
Fellow retro gamers also downloaded these games: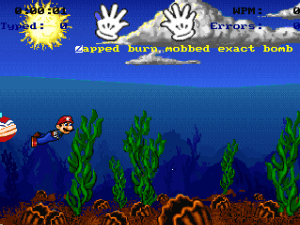 Mario Teaches Typing 2
Win, Mac1997
Mavis Beacon Teaches Typing!
DOS, C641987
Mario's Game Gallery
DOS, Mac1995