Play
Weird Dreams - Play Online
DOS - 1988
For small DOS games like Weird Dreams, you can play online immediately with your browser (Chrome, Firefox, Safari, Internet Explorer...). This feature is still experimental, the game may not work properly. Warning: game save should work, but you should try it early! Also, be careful to select the right game executable in the list below.
Emulator configuration
You have to choose the right game executable, then press PLAY.
To exit fullscreen mode, press escape. Playing experience can be poor due to your browser or your computer. Download Weird Dreams and launch it with DOSBox to have the best playing experience!
If the game is too fast or too slow, try hitting CTRL-F11 (slower) and CTRL-F12 (faster).
Comments
the super player 2017-08-26
you got me just right. i love peanutbuttergamer and after watching him play this game i wanted t play it to thanks for the tips btw.

after playing the game i realized without those tips from you i woult still be in that cottin candy machene at the begining s thanks
DontheDreamer 2017-07-10
So, for the few of you who want to play this game after seeing PeanutButterGamer play it, here are a few tips.

1. Starting to game.
Upon starting, it will ask you for your controls, screen, and music. (Unless you have one) Press N for the joystick, press 3 for the screen, and press 5 for the music. This should be normal and get you the same result as PBG.

2. Cheats. Press the help key while on the last frame of going into the right mirror in an SOS fashion. This is 123, 1, 2, 3, 123. Basically fast, then slow, and fast again. What is the help key? I have no idea!

3. Walkthrough. Why are you asking me? I can't get past the flowers in the English garden!

Long story short, if you thought this was helpful, then great! Bye!
Write a comment
Share your tips to run properly Weird Dreams in your browser: best browser to use, specific DOSBox config... You can drop a comment for anything too!
Similar games
Fellow retro gamers also downloaded these games: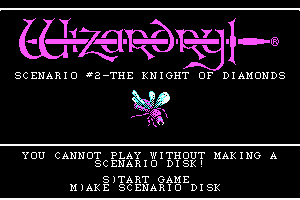 Wizardry: Knight of Diamonds - The Second Scenario
DOS, C64, Apple II, PC-88, PC-981987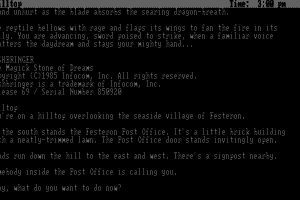 Wishbringer
DOS, Mac, C64, Amiga, Amstrad CPC, Atari 8-bit, Apple II1985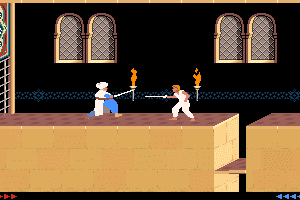 Prince of Persia
DOS, Mac, Genesis, Master System, Game Gear, Amiga, Amstrad CPC, Atari ST, Apple II, FM Towns, Sharp X68000, TurboGrafx CD1990