Doom - Play Online
DOS - 1993
For small DOS games like Doom, you can play online immediately with your browser (Chrome, Firefox, Safari, Internet Explorer...). This feature is still experimental, the game may not work properly. Warning: game save should work, but you should try it early! Also, be careful to select the right game executable in the list below.
Emulator configuration
You have to choose the right game executable, then press PLAY.
To exit fullscreen mode, press escape. Playing experience can be poor due to your browser or your computer. Download Doom and launch it with DOSBox to have the best playing experience!
If the game is too fast or too slow, try hitting CTRL-F11 (slower) and CTRL-F12 (faster).
Comments
Decay 2017-10-23
To change the controls load up the game executable Doom/SETUP.EXE and change the inputs to something you like. Then load the game from that menu.
Ivan 2017-10-03
"wasd" doesn't work? it's ',' for left '.' for right WTF happened to key-map ??
also arrows do not work in the comments editor Why ? i appreciate the contribution still...
! 2017-10-03
Does it work on a tablet
Jony 2017-08-26
I Don't know how to play it.I could not pass none of the level.
InstructionsForGames 2016-09-20
As I have tested, the proper BASIC controls for the game is:
Spacebar: Open Door
Left Ctrl: Shoot/Fire
Num Keys 1-9: Weapon Change
Enter: Start
Esc: WHAT DO YOU THINK?
DiamondGaming 2016-08-03
How can I play
unabled 2016-07-16
Hey, thats pretty good
tone 2016-05-28
can i add mods?
Mysoft 2016-05-19
for those with F1 problems change from opening with DM.EXE to DOOM.EXE to open the game directly...
deshdog 2016-05-13
lol sweet
duh 2015-12-02
HH... use ctrl to fire. Spacebar opens door.
hh 2015-11-03
how do you shoot? spacebar does NOTHING!!
lawxx 2015-06-07
i cant even push the button F1 cuz it opens google help
and if i download there is an error opening it damn it
comradebutthead 2015-05-25
Great work!
But it is a tad laggy and the framerates are bad for a 90s game. (My laptop has 4th gen Core i5, 12 gigs of ram and GT 840m)
To whoever is going to play that, I'd advise you to download it and use any doom engine for better performance and graphics too. (Like Doomsday, Zandronum, Zdoom, ...etc), there are plenty of them out there.
The Scientist 2015-05-25
Change the game executable to doom.exe in the drop down menu in emulator configuration to get to single player.
tatersala 2015-05-25
nothing happens just get 2 the death manager
Write a comment
Share your tips to run properly Doom in your browser: best browser to use, specific DOSBox config... You can drop a comment for anything too!
Similar games
Fellow retro gamers also downloaded these games: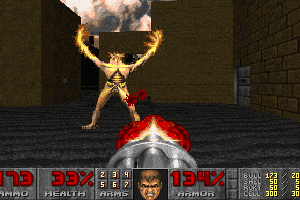 DOS, Mac1994
DOS1995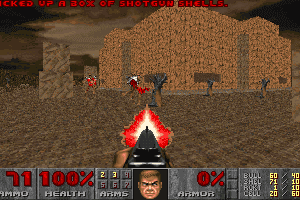 DOS1995