Amiga games
How to play Amiga games
We have more than 2500 Amiga games on My Abandonware, a fairly good number as Lemon Amiga lists 3518 games. Several Amiga computer were released from 1985 to 1993, and emulation started in 1995 with UAE.
Amiga emulators
You have 3 choices for emulating Amiga machines on your computer:
FS-UAE: a versatile Amiga emulator with tons of options, available for Windows, Mac OS X, Linux and more. Clean and modern interface, connected to the Open Amiga Game Database and Open Source. Contains recoded kickstart ROMs. Recommended.
WinUAE: an old and robust Windows port of the original UAE Amiga emulator. FS-UAE uses the most accurate emulation code released by WinUAE. Another solid choice for Windows users.
Amiga Forever: easy to use Amiga emulator for Windows only, costs $10 to $50 and contains a legal Amiga Kickstart ROM to play your favourite games immediatly.
One important note about Amiga Kickstart ROM: these ROMs are necessary programs to boot the Amiga emulator and are copyrighted. Having the right kickstart ROM will allow you to emulate games in an optimal way. You have 3 choices to get these needed ROMs:
Buy the Amiga Forever emulator, which comes with a licensed Kickstart ROM
Extract the Kickstart ROM from your own Amiga computer, as explained on Amiga Legal Emulation
There are several Kickstart ROM available, you should choose one, depending on the Amiga computer you wish to emulate, by following this FS-UAE tutorial. Once you've got your own Amiga Kickstart ROM, you can play Amiga games on your computer.
FS-UAE have built-in recoded kickstart ROMs, you can try running games using these first getting the real ROMs.
Running Amiga games in FS-UAE
Download and unzip the games file downloaded from My Abandonware or another site. Many archives contain several version the game, try to run the one that works the best. After unzipping the game archive, you'll get a .adf (Amiga Disk File) file, a standard file format used by UAE emulators.
Step 1
After the first launch FS-UAE Launcher, you'll get this screenshot. This first screen allows you to quickly run games without fiddling the options.
Step 2
Select the Amiga computer you want to emulate. You may try several of them before finding one that will run the game well. You can try with the modern Amiga at the end of the list.
Step 3
Click on the right icon for the first floppy drive, find the .adf file of the game archive you unzipped before. You'll see the file in the white field after selecting it.
Step 4
Once this is done, you should have this screen, you can click on "Start".
Step 5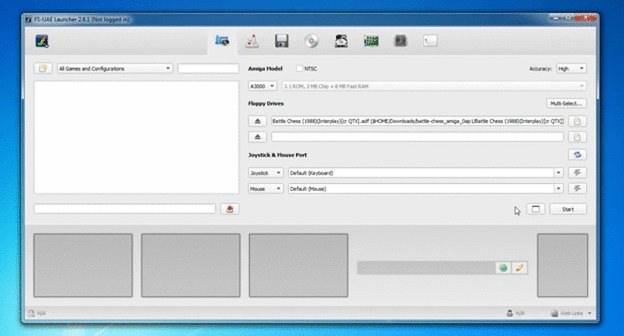 The Amiga emulator will start and show you a desktop with the content of the floppy disk visible. You'll have to choose a program to run then. Enjoy!
Some games have multiple disks, you will have to add multiple disks in the floppy disk menu. You can configure up to 4 .adf files in the floppy drives. If more than 4 floppies are required, press F12 (Mac OS X: cmd-fn-F12) to bring the emulator menu and change the .adf used in any of the 4 floppy drives. Additional documentation is available on the official FS-UAE website.