Due to the Coronavirus Disease (COVID-19), we are under heavy load of retrogamers wanting to travel back to those old and safe times. Please choose thoroughly every game you download and share the bandwidth with everyone.
Track Racing
Browse games with theme Track Racing
Track racing games focus on the racing of motor vehicles on purpose built racing circuits. The track environment is fenced off and clearly designated, and typically the player will have to complete a set number of laps in order to complete a race, or compete against the clock (e.g. on a rally track). There are numerous track racing games, from classic games like Pitstop to more recent titles such as the Colin McRae Rally series of games.
Track Racing Games 1-15 of 261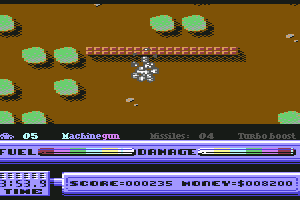 DOS, Amiga, MSX, Amstrad CPC, Atari ST
1990
Genesis, Master System, Game Gear
1992