Ultimate Body Blows
DOS - 1994
Description of Ultimate Body Blows
The sequel to Body Blows, this game is centered around the revenge of Max (otherwise known as the cyborg T17) and his gangland cronies.
Each character from Body Blows is included, and an incredible amount of new characters are selectable as well. This game's strong points are its wonderful, animated background stages, crisp graphics, and melodious music. Weak points are the fact that the characters are stiff, have limited attacks, and are difficult to control.
A great game overall, but it can easily get boring if you don't figure out the controls quickly.
Review By HOTUD
Write a comment
Share your gamer memories, give useful links or comment anything you'd like. This game is no longer abandonware, we won't put it back online.
Buy Ultimate Body Blows
Ultimate Body Blows is available a small price on the following websites, and is no longer abandonware. GoG.com provide the best releases and does not include DRM, please buy from them! You can read our online store guide.
Similar games
Fellow retro gamers also downloaded these games: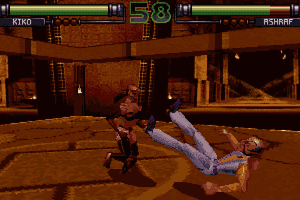 DOS1995
Genesis1996
Genesis1996