Ravenloft: Strahd's Possession
Ravenloft: Strahd's Possession
DOS - 1994
Description of Ravenloft: Strahd's Possession
Sir Launcelot du Lake sums it all up nicely in his review: Strahd's Possession is a mixed bag; the good storyline, soundtrack and full speech throughout makes it worth experiencing.
Some aspects of the interface and the time wasting puzzles are quire irritating. AD&D players, already used to the insidious puzzles from previous installments, should be able to overlook it and enjoy the game. Hopefully DreamForge will take note of the shortcomings when they use the same engine to write their next game - AD&D Forgotten Realms: Menzoberranzan.
Review By HOTUD
Write a comment
Share your gamer memories, give useful links or comment anything you'd like. This game is no longer abandonware, we won't put it back online.
Buy Ravenloft: Strahd's Possession
Ravenloft: Strahd's Possession is available a small price on the following websites, and is no longer abandonware. GoG.com provide the best releases and does not include DRM, please buy from them! You can read our online store guide.
Game Extras
Some of these file may not be included in the game stores. For Ravenloft: Strahd's Possession, we have the following files:
Similar games
Fellow retro gamers also downloaded these games:
DOS1994
DOS1995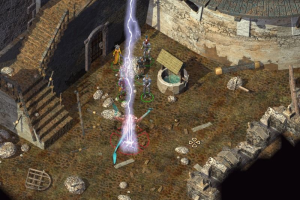 Win, Mac2000